Woman Killed In Hit And Run Accident In Osceola County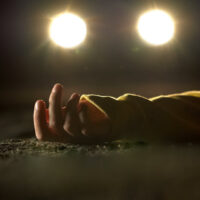 When a driver hits someone, their instinct may be to flee the accident scene. However, this is not the morally correct decision nor is it a legal one. After a car crash. all involved must remain at the accident scene. When they fail to do so, it can lead to serious injuries, fatalities, legal issues, and more.
Sadly, a woman was killed in a hit and run accident in Osceola County. The fatal crash happened just before midnight on August 11 at the intersection of Poinciana Boulevard and Irlo Bronson Memorial Highway.
A 37-year-old woman from Kissimmee was walking across Poinciana Boulevard. She was not in a marked crosswalk and had entered the direct path of a Chevrolet Silverado. She was hit by the truck, which did not stop. The woman died at the accident scene.
The Chevy truck involved in the crash was later found in a nearby parking lot. It is unknown who was driving it. The driver has not been found. The accident is still under investigation by the Florida Highway Patrol.
Hit and Run in Florida
When you are involved in a car accident in Florida, the law requires you to stop, render medical aid (if necessary), and share your insurance details. If you keep on going or do stop at the scene but leave without giving the other motorist your information, you could be charged with a hit and run offense. This is true even if you were not aware that you hit a person or another vehicle.
Florida defines a hit and run in simple terms. You may be accused of a hit and run if you did any of the following:
Did not stop
Left the accident scene too soon
Refused to share your vehicle and insurance information with the other motorists involved
You will face penalties for a hit and run accident, and they will depend on the outcome. How much damage did you cause?
If the hit and run accident resulted in property damage only, you could be found guilty of a second-degree misdemeanor. The penalties include a $500 fine and up to 60 days in jail.
If the hit and run crash caused minor injuries, it becomes a third-degree felony. You could face fines of up to $5,000 as well as five years in prison.
Serious injuries could result in a second-degree felony. Examples include broken bones, burns, or disability. The penalties may include up to 15 years in prison and fines of up to $10,000.
A fatality caused by a hit and run accident is a very serious offense. It is a first-degree felony, punishable by a $10,000 fine and up to 30 years in prison.
Contact Us Today
Drivers have rules that they must abide by. When they don't stop after being involved in a crash, they can be charged with a hit and run offense.
Hit by a car? Involved in a hit and run accident? The Kissimmee auto accident lawyers at Draper Law Office can assist you in these situations. To schedule a free consultation with our office, call (407) 743-6628 or fill out the online form.
Source:
clickorlando.com/traffic/2023/08/12/driver-abandons-truck-after-hit-and-run-crash-leaves-pedestrian-dead-in-osceola-county-fhp-says/