4 Killed When Teen Runs Stop Sign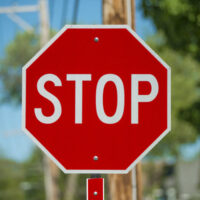 When four teen boys are in a vehicle and one is driving, chances are high that something bad is going to happen. Unfortunately, it did in Osceola County, when a 15-year-old boy ran a stop sign, killing four people. The fatal accident occurred on the evening of September 3rd at San Miguel Street and Laurel Avenue in Poinciana.
According to the Florida Highway Patrol, a 15-year-old boy was driving a Chevrolet Impala with three other 15-year-old boys in the car. He was heading north on Laurel Avenue. When he came to the intersection with San Miguel Street, he was speeding and he ran a stop sign. He hit the left side of a Honda HR-V SUV, which rotated onto a grass shoulder and collided with a light pole due to the impact. Four people inside the SUV were killed, including three children, ages 1, 9, and 11 years old. The boy was not licensed and did not have a learner's permit.
The crash occurred behind a woman's home and she ran out to help. Unfortunately, it was a scene that she had seen happen too many times, as Laurel Avenue is known for speeding. Many drivers run the stop signs and end up driving through her neighbor's fence.
The woman assessed the 15-year-old driver and kept him at the scene. She also had to try to calm him down, as he kept asking if he was going to jail.
The driver of the Honda, a 50-year-old woman, and one of the children died at the accident scene. Two other children were taken to a local hospital, where they later died. A 52-year-old man survived the crash but suffered serious injuries.
The teen driver was taken to a hospital with serious injuries. The other three boys were taken to hospitals with minor injuries. The accident is still under investigation.
Driving Without a License
Under Florida Statutes, Section 322.03(1), it is illegal for someone to drive a motor vehicle on a Florida state highway without a valid driver's license. For you to be charged with this crime, the following must be true:
You physically controlled the vehicle.
You were driving in a place that allows the public to drive motorized vehicles.
You had no state-issued driver's license and were therefore not authorized to drive.
If you drive without a license, you face a second-degree misdemeanor, which comes with penalties such as $500 fine and up to 60 days in jail. However, the 15-year-old in this case is a minor and would likely not face such harsh penalties.
Contact Us Today
Inexperienced driving and running a stop sign are two factors that can lead to serious accidents. They can cause fatalities, as seen in this case.
The Kissimmee auto accident lawyers at Draper Law Office can assist you if you or a loved one has been injured in a crash. Schedule a free consultation by calling (407) 743-6628 or filling out the online form.
Source:
clickorlando.com/traffic/2023/09/04/4-killed-in-crash-including-3-children-when-15-year-old-runs-stop-sign-in-osceola-county-troopers-say/