Draper Law Office, Positively Osceola, and the School District of Osceola County Join in Celebrating Extraordinary Teachers & Professional Support Staff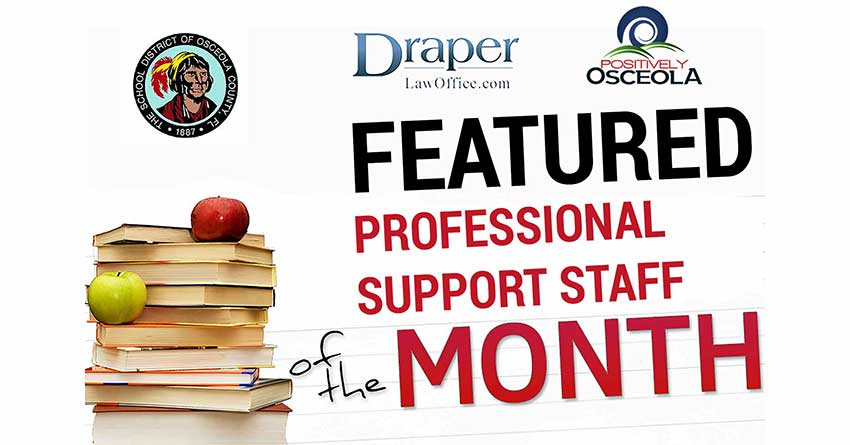 With the 2019 school year well under way, it was once again time to recognize some of the amazing teachers and professional support staff that touch the lives of so many students everyday in the School District of Osceola County.
For the fourth year, Charlie Draper of Draper Law Office, along with Dr. Debra Pace, Superintendent of the school district, and Positively Osceola, began visiting schools with a mission of thanking teachers and support staff that go above and beyond In order to bring the best in education to Osceola County schools.
The "Featured Teacher" and "Featured Professional Support Staff" programs have been a huge success in thanking these extraordinary individuals and letting them know that their excellent work doesn't go unnoticed, and that they are truly making a positive difference in Osceola County.
In October, Mike Beahm, K-2 interventionist at Reedy Creek Elementary School, was honored as the Featured Teacher of the month, and Michael Koudelka, Paraprofessional in the ESE Department at Poinciana High School, was named Featured Professional Support Staff of the month.
These extraordinary examples of leadership in education were celebrated not only by Charlie Draper, Dr. Debra Pace and Positively Osceola, but also by their peers, students and school leadership. Individuals like Mr. Beahm and Mr. Koudelka are part of the reason that the School District of Osceola continues to ensure that every child, every day has every chance to succeed and to become successful and contributing members of the community. If you're interested in learning more about the Featured Teacher and Featured Professional Support Staff of the Month programs, contact Draper Law Office at 407-846-0075 or Positively Osceola at 407.569.8352.