Kissimmee's Chambers Park Vaccination Site has Capacity for 200 No-cost Shots Daily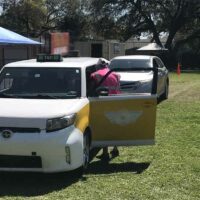 Osceola County's first community COVID-19 vaccination site at the City of Kissimmee's Chambers Park Community Center has opened in a collaboration between the Osceola County Office of Emergency Management, Florida Department of Health in Osceola County, and Florida Department of Emergency Management.
At the direction of Gov. Ron DeSantis, this site and five others across the state have been established in order to meet the needs of underserved Florida communities.
Located at 2380 Smith Street in Kissimmee, the site will be able to administer up to 200 doses a day of no-cost COVID-19 vaccine seven days a week, from 9 a.m. until 2 p.m. or until all 200 doses have been administered. The site opened for operation on Thursday, February 25.
Doses of the COVID-19 vaccine will be available on location on a first-come, first-served basis, eliminating the need for residents to have access to phone or internet service for registration.
Florida residents currently eligible to receive a vaccination at this location are those 65 years of age and older or healthcare personnel with direct patient contact.
For information on prevention, available testing, and vaccination opportunities in Osceola County, please visit www.osceola.org/covid19.