Wrong Way Driving Turns Fatal on Florida Highways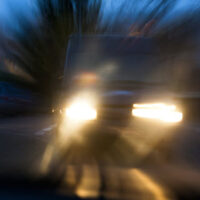 On December 30, 2020, just before the new year, 3 people were killed and 2 more injured, when a man fleeing the police struck their vehicle going the wrong way on I-95, according to local reporting by ClickOrlando.com. Among the dead were a brother and sister. They were traveling to view Christmas lights. This deadly collision highlights a continuing problem throughout central Florida, including all areas in and around Orlando, Kissimmee, and neighboring communities. Wrong way driving crashes can turn deadly very fast, and the victims are often left to sort it out alone. Still, there are things everyone can do to protect themselves from these dangerous drivers.
#1 – Get Uninsured Motorist Coverage
This is perhaps the best advice any Florida personal injury lawyer can give you. Florida is a no-fault liability state, which just means that all motorists first file their injury claims with their own insurance companies. Then, only if certain conditions exist, they may bring a claim against the at-fault driver. Still, in situations like the one that occurred in December, criminals rarely carry insurance. And even if the vehicle owner had insurance, usually the insurance company will get out of paying by arguing that there is no insurance for criminal acts of a third-party. In other words, if someone hits you in a stolen vehicle while speeding the wrong way down the interstate, the owner's insurance company will disclaim liability. Yes, there are times when we can get around that, such as when the owner carelessly let the person use the vehicle. But it is usually smart to assume that these individuals will be uninsured. Uninsured motorist insurance costs a little more, but it allows you to recover compensation even if the other driver had no coverage.
#2 Try to avoid holidays and late night travel 
This may seem a little difficult for some, especially those who work nights, but if you don't have to drive late at night, don't. If you don't have to drive on Christmas, St. Patrick's Day, Fourth of July or other dangerous holidays associated with heavy drinking, then don't.
#3 Stay alert 
This probably goes without saying, but your biggest protection on the road is your own judgment and alertness. Never take medications that make you drowsy then drive. Do not drink and drive. Do not get distracted by cell phones or other instruments in the vehicle. Your ability to react quickly may be the one thing that saves you and those you love from a fatal collision.
What Happens After a Crash? 
If a wrong way driver strikes your vehicle, it will likely be a head on collision. Most are. The Federal Highway Administration estimates that between 300-400 fatalities each year are directly caused by wrong way drivers, and this accounts for as many as 1% of all traffic fatalities.  Florida's weather is usually pretty good, traffic is heavy, the roads are kept clean, and tourism is a big part of the economy. These combined with drinking and texting create a perfect storm for a lot of drivers to get turned around and drive the wrong way on the highway.
After a crash, there are a lot of things to consider. First and foremost, seek medical attention right away. Once you make sure that you and those you love are safe, call the Kissimmee auto accident attorneys at the Draper Law Office to get immediate help making sure that all of your rights are protected. Consultations are always free, but time is limited for seeking compensation if you are injured.
Resource:
safety.fhwa.dot.gov/intersection/other_topics/wwd/#:~:text=In%20the%20United%20States%2C%20WWD,related%20fatalities%20that%20occur%20annually.