Man Killed In Solo-Vehicle Crash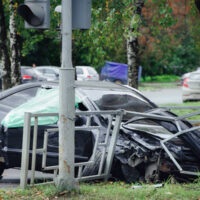 A car accident does not have to involve multiple vehicles. Sometimes all you need is your own vehicle to lose control and go off the road, causing a fatal crash.
Sadly, this recently happened in Kissimmee. A man was recently killed in a solo-vehicle crash. The fatal accident occurred on the morning of December 26 on Osceola Parkway.
The 20-year-old man was driving a Mazda sedan on Osceola Parkway. He was heading west when the vehicle ran off the road for unknown reasons. It crashed into a traffic sign and utility pole. The man died at the accident scene.
Run-Off-Road Collisions
A run-off-road crash occurs when a vehicle leaves the roadway. These crashes are often catastrophic or deadly because the vehicle either rolls over or collides with a fixed object, such as a tree or pole. When the vehicle is sliding or spinning and the driver has lost control, fatality is even more likely to occur.
Common causes of these accidents include:
Excessive speed. Going too fast can cause a vehicle to lose control and go off the road.
A tired driver is likely to fall asleep while behind the wheel and drift off the roadway.
Distracted driving. A driver who is distracted is not paying attention to the road. Their eyes may be focused on something like, like their cell phone. Their hands may be off the wheel and their mind may be thinking about something other than the task of driving. This inattention can easily lead to an accident.
Misjudging a curve. Curves can be tricky. A vehicle that is going too fast can lose control and go off the road.
Weather conditions. An icy or wet roadway can cause slippery conditions, making it more likely for a vehicle to go off the road.
A driver may need to swerve to avoid hitting an animal, pedestrian, pothole, debris, or other road hazard. This can cause a person to lose control and go off the road.
Vehicle failure. A blown tire, brake failure, or steering failure can make it hard for the driver to control the vehicle. It's possible that it can go off the road.
You can avoid run-off-road collisions by avoiding alcohol or drug use before driving. If you're tired, get off the road. In addition, always drive at a safe speed. You should avoid distractions that take your focus off the road. Also, make sure your vehicle is well-maintained. Tires should have adequate tread and brakes should be in good working order.
Contact Us Today 
Solo-vehicle crashes can be dangerous and even deadly. Drivers need to be careful and alert when on the road, even when no other vehicles are around.
A Kissimmee auto accident lawyer from Draper Law Office can find out what you and your loved ones are entitled to receive after a crash in the Central Florida area. Learn more by scheduling a free consultation. Call (407) 743-6628 or fill out the online form.
Source:
orlandosentinel.com/news/breaking-news/os-ne-osceola-fatal-crash-20221226-naodoylbjnaafbtwo35lpygn3a-story.html