Osceola County Judge unites two new forever families, partners with Embrace Families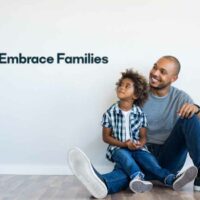 National Adoption Day takes place every November, and this year ceremonies looked a bit different, with limited face-to-face interactions and virtual meetings due to the coronavirus pandemic – but the tradition of uniting families across the country the week before Thanksgiving remained the same.
In Osceola County, Judge Laura Shaffer met two families and then made the adoptions of three children official with virtual ceremonies for extended family members and friends. Similar proceedings were held in Orange County.
"While we've had to scale back our celebrations, it doesn't detract from what this symbolic day means," said Judge Shaffer. "Today, we're witnessing proof that the power of love has no boundaries."
While adoptions take place throughout the year – even during the COVID-19 shutdown – National Adoption Day, which began in 2000, raises awareness about the number of children in foster care who are in need of stable, loving homes.
"Our priority has always been to provide as much normalcy as possible for these children," said Glen Casel, president and CEO of Embrace Families, the lead nonprofit agency overseeing foster care, adoption, and child welfare services in Central Florida. "These are good kids who have faced difficulties in life. Our mission is to find permanent solutions that allow them to thrive."
Since its inception in 2004, Embrace Families has helped almost 2,300 children find their forever families. To learn more about foster parenting or adoption, prospective families can visit www.EmbraceFamilies.org.
Draper Law Office would like to thank Embrace Families for all that they do to change the lives of children and families all through the year!