Personal health and community health – they go hand in hand in Central Florida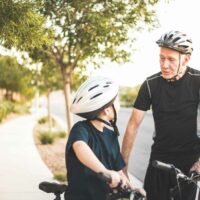 Personal health and community health – they go hand in hand. Central Florida is one of the fastest-growing regions in Florida, and with such rapid growth comes the need for planning for public safety, transportation strategies, and quality of life for residents.
Osceola County, the City of St. Cloud, and the City of Kissimmee are working together with Seminole and Orange County in order to properly create communities to live, work, and play in. A great example of this is the Shingle Creek Trail.
The Shingle Creek Trail is coming together, and when fully constructed, the multi-use trail will span 32 miles through one of Florida's most traveled urbanized areas. The completed trail will be a key north-south connector in a larger regional trail network that includes the West Orange Trail, South Lake Trail, Cross Seminole Trail, and Seminole Wekiva Trail.  The trail crosses through four jurisdictional boundaries – Kissimmee, Osceola County, Orange County, and Orlando.
The City of Kissimmee is working hard to create an expansive trail system for walkers, bikers, and runners, with part of that plan including the City's sections of the Shingle Creek Trail. They're doing so because they realize the importance of quality of life and public safety.
As the roads we travel on become more and more above capacity, public safety is at risk, and we see more and more vehicle, bicycle, and pedestrian accidents. It's not what any of us want, so stay safe, healthy, and happy – and remember, In times of need, you can trust Draper Law Office.