Preserving Your Rights In A Florida Car Accident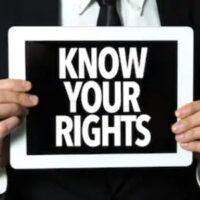 Being in a car accident can be extremely jarring, especially if you have extensive injuries or have to replace your vehicle. Your first priority should always be making sure that your health and safety are checked out. However, when you're recovering from a Florida car crash, you also should think about how you can preserve your legal rights.
In Florida, you have four years from the date of the accident to file a personal injury claim, so you don't need to make a decision about what you want to do. But, your claim will be much stronger if you take these steps immediately after being in a car crash.
Document the scene of the accident
If you need immediate medical attention, skip this step – your health is more important.
However, if you are able to get out of the car and walk around, it's a good idea to document the accident. You can use your voice recorder on your phone to record what you remember about the moments before the crash, such as which direction you were going and what your speed was.
Also, if it's safe, you can walk around and take pictures of your car, the other car, and any injuries you or your passengers received. If you have any luggage or personal items that were damaged, including your computer, take a picture of that too.
If there are any witnesses to the crash, you can also get their contact information. You might not need to take witness statements, but it's a good idea to have this information in case the other driver, or their insurance company, tries to contest your claims.
Make a police report
In Florida, the police might not need to come to the scene of the accident, depending on how serious the accident was. It can still be a good idea to make a police report. This will document what happened close to the time of the accident, and you might need it when you're filing a personal injury claim with an insurance company down the road.
Get medical treatment
If you have serious injuries that need immediate medical attention, you should get help first. Even if you don't have apparent injuries and can walk away from a crash, it's still a good idea to get checked out by a doctor. You may have injuries that appear later. Back injuries, for example, commonly show up days after an accident.
In addition to receiving treatment, having a medical report after the accident will help you prove the extent of your injuries in the aftermath of a car accident.
Work with an experienced auto accident lawyer
Finally, it's a good idea to work with an experienced Kissimmee auto accident lawyer to make sure you receive the maximum settlement possible. Insurance companies are notorious for trying to get people to settle quickly and sign away their rights. Having an auto accident lawyer on your side can help you make sure that you receive the maximum amount available after being in a car crash.  Contact the Draper Law Office for help.