What To Do After A Semi-Truck Accident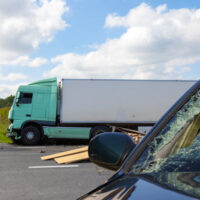 A semi-truck accident can be completely devastating, both physically and financially. In the immediate aftermath of a semi-truck accident, you may simply be shocked that you survived. Many people experience trauma as a result of the accident and may feel confused, disoriented, and overwhelmed following the crash. If you feel this way, it is completely understandable and okay. In this article we'll cover some steps to take following an accident with a large truck if you are physically and mentally able. By taking these steps, you will put yourself in the best possible position to succeed in bringing a claim if you later choose to. These steps will also help in establishing liability with the insurance companies.
Call the Police
If you've been involved in an accident with a semi-truck, there's a good chance that there's significant damage. If there is any chance of injury, any debris in the road, or your vehicle is blocking traffic, call 911 right away. When police arrive, be sure to talk to them and mention any physical pain or discomfort that you are experiencing. Try to remain calm when engaging with them even if you are frustrated by the crash. Try to stick to the facts and remain as straight-forward as possible when recounting the events.
Document the Scene
While you wait for the police to arrive, if you are physically able, take pictures and video of the scene of the accident. Make sure to get pictures of the license plates of all vehicles involved, as well as any damage to vehicles. Also take photos and video of the scene, including any skid marks, traffic signals, or signs, as they may be relevant in establishing liability. Make sure to get the truck driver's license, registration, and insurance information, as well as the name of the trucking company that they work for. Finally, collect the names and contact information of any witnesses who observed the accident.
Seek Medical Attention
It's important to seek medical attention as soon as possible after any accident, but this is particularly critical after being involved in an accident with a 30,000 pound semi-truck. Even if you do not believe you are injured, your body was just subjected to a massive amount of force, and it's important to be assessed by a medical professional. Many injuries do not begin to exhibit severe pain for 3-5 days after an accident, and if you wait until you are in severe pain to go to the doctor, it could negatively impact your claim. It's important to start building your claim by getting all necessary information on your medical condition as soon as possible after the accident.
Get Your Vehicle Damage Appraised
It's important to get an accurate understanding of how much it will cost to repair or replace your vehicle. Even if the damage does not appear to be severe, sometimes internal damage to the vehicle's engine or components can be both dangerous and costly to repair. The sooner you get this assessment, the better.
Talk to a Florida Truck Accident Lawyer
The sooner you retain counsel following a truck accident, the better. You will likely begin hearing from the liable party's insurance adjuster very soon after the crash. It's important to remember that the insurance adjuster is not on your side. Rather, they are interested in offering you as little as possible. By contacting you soon after the crash, before you have an accurate idea of your injuries or the extent of the damage to your vehicle, they hope to get you to settle for less than you deserve. Retaining a lawyer allows you to make them the point of contact for the insurance adjuster, and ensures that you will get the maximum settlement that you are entitled to.
Schedule a Consultation
If you've been injured in a semi-truck accident, contact the Kissimmee truck accident lawyers at the Draper Law Office to schedule a consultation and find out how we can help you get the compensation that you are entitled to.
Source:
enjuris.com/truck-accident/steps-after-truck-accident.html