10-Year-Old Killed By Kissimmee Driver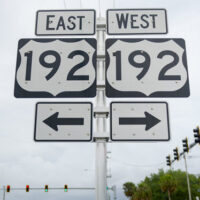 A tragic accident that took place in Four Corners just after 9:00 p.m. has left a 10-year-old girl dead. According to witnesses, the 10-year-old girl was crossing U.S. 192 with a group of other children when a 71-year-old Kissimmee man driving a sedan hit her. Police say that the children were not using a crosswalk but noted that they were walking in a group. Witnesses spotted the group with ease. No other children were hit by the driver or injured by the accident. The girl who was hit was transported to a local hospital, where she died shortly after. The man stopped at the scene of the accident and talked to police. The Florida Highway Patrol is still investigating the collision and it is unclear at this point whether charges will be filed or what they will be. Police did not comment on what may have caused or contributed to the driver hitting the pedestrian in this case, or whether negligence was involved.
Pedestrian-Vehicle Collisions
While accidents are common, pedestrians are especially vulnerable to vehicles on the road. With no protection against vehicles that are made of steel and traveling at high speeds, it is no surprise that pedestrian-vehicle collisions often prove fatal. They are also generally avoidable. If you or a loved one have been involved in a pedestrian-vehicle collision due to another person or party's negligence, you may be frustrated and struggling to move forward. Injuries sustained in a pedestrian-vehicle collision can be devastating and life-altering. Additionally, these injuries can require months or even years of expensive therapy and rehabilitation. You will likely also require time off from work while you recover from your injuries, and depending on the extent of your injuries, you may not be able to return to the same job afterwards. A personal injury lawsuit covers these costs and more. While nothing can keep this accident from happening, a personal injury lawsuit at least aims to restore you to the position that you would have been in financially, had the accident not occurred.
How a Lawyer Can Help
If you are a pedestrian who has been injured by a vehicle, you are likely facing increasingly high medical costs as well as a lot of pressure from the negligent party's insurance company to settle. A lawyer can help you to navigate this process, ensure that you do not accept a low-ball settlement, and that you receive the maximum amount of compensation that you are entitled to. A lawyer can help you determine the best avenue to compensation as well as help you arrive at a realistic estimate for all harm suffered, so that you do not accept any less than you need to live a life unaffected financially by this accident. A lawyer can also help you bring a personal injury lawsuit to recover damages from any and all liable parties. 
Talk to a Kissimmee Personal Injury Lawyer
The experienced Kissimmee personal injury lawyers at Draper Law Office are ready to help, if you have been injured in a vehicle accident or by a vehicle, and it was not your fault. Contact us today to schedule a consultation and let us help you get the maximum compensation that you are entitled to.
Source:
orlandosentinel.com/news/crime/os-ne-pedestrian-killed-us-192-avalon-20210722-5m4b5o4ktrdstkp2rzszxzfrr4-story.html