What To Know About Parking Lot Accidents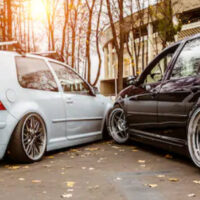 Parking lots can be tricky for drivers to navigate. Whether you're at a grocery store, restaurant, doctor's office, apartment complex, concert or sports venue, or school, getting in and out of a parking lot can be tricky due to the sheer number of cars and pedestrians in the area.
Many of these accidents are caused by distracted driving. The good news is that these crashes are often at low speeds, so the injuries involved are not typically too bad.
Still, there can be some complications. It is not always clear who is at fault. Plus, there are often blind spots, and hitting a child is easy to do. Another thing to consider is when to yield. Yielding is necessary in many cases, but parking lots do not typically have yield signs or traffic signals, so this can be tricky.
Even after you have parked, you could cause a dent or ding by swinging your car door into the adjacent vehicle's door. These all can be scary situations. What do you do? How do you proceed? Here are some rules for parking lot accidents.
If You Hit Someone
If you hit another vehicle in a parking lot, follow these steps:
Remain at the accident scene. Never drive away from a parking lot accident, even if it is minor. If another customer sees you or you are caught on a surveillance camera, you could face hit-and-run charges.
Try to find the other car's owner. You can go inside the store or office and speak to someone at the customer service desk. They can check to see who owns the vehicle.
Leave a note. If you're not sure how to locate the owner, leave a note with basic information, such as your name, phone number, and what happened. Leave the note in a secure place on the car, such as under the windshield.
Call the police. This is only necessary if the vehicle has been extensively damaged. A police officer can document the accident and help you find the other car's owner.
If Someone Hits You
Do the following if someone hits your vehicle:
Inform your insurance company. Let your agent know about the accident as soon as possible. They will let you know what to do next.
Gather evidence. Get as much evidence as possible. Take pictures of the damage with your smartphone. Take notes of what happened. Get the driver's personal information, if possible, including their name, address, phone number, driver's license number and insurance company.
Get full compensation. Make sure your losses are covered. If your insurance company is trying to lowball you, contact a lawyer.
Contact Us Today
Parking lots are often crowded, making accidents likely. If you have been involved, contact your insurance company. If they can't give you the outcome you desire, seek legal help.
The Kissimmee auto accident lawyers at Draper Law Office can help you gather evidence and recover compensation for the losses you have suffered. To schedule a free consultation, call (407) 743-6628 or fill out the online form.
Source:
statefarm.com/simple-insights/auto-and-vehicles/how-to-deal-with-parking-lot-accidents