Benefits of Signing a Prenuptial Agreement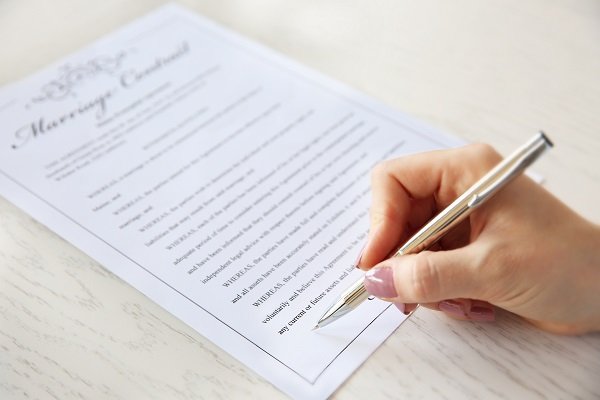 If you are engaged, you should consider signing a prenuptial agreement. Do not allow friends, relatives, or even your partner try to talk you out of it by saying that a prenuptial agreement is "unromantic" or that by singing one, you expect your marriage to fail.
Signing a prenuptial agreement has nothing to do with the integrity of your marriage. It is a legal document that provides guidelines for the financial aspect of your marriage, which includes how your assets are to be divided in the event of your divorce or either party's death.
A Prenuptial Agreement Can Ensure that your Children and Grandchildren Inherit your Assets After your Death
Prenuptial agreements are popular with individuals entering their second and later marriages because often, individuals in this position have children from their previous relationships that they want to pass their assets onto. Your prenuptial agreement can underscore other beneficiary designations you have made to ensure that your descendants receive certain assets.
If you Divorce, Property Division can be Much Easier
When many people think of prenuptial agreements, they think of them as rules for the couple's divorce. Although this is not the only use for a prenuptial agreement, it is certainly one. With your prenuptial agreement, you can state how specific assets are to be divided and which are to be retained by each party as separate property.
You cannot include requirements for your timesharing arrangement or child support order in a prenuptial agreement. The court must determine these orders based on what it deems to be in your child's best interest.
A Prenuptial Agreement can Separate your Debt from your Spouse's
Just like assets, debt accrued during a marriage belongs equally to both parties. You can use a prenuptial agreement to separate the debt you accrue during the marriage from the debt your spouse accrues, which can be substantial if one of you plans to attend college or start a business while you are married.
Clarify your Separate and Marital Property with a Prenuptial Agreement
In a divorce, marital property is subject to division. Separate property is not.
Sometimes, an asset that enters a marriage as a piece of separate property becomes marital property when its value changes because of the spouse's efforts. One example of this is a home owned by one party that became more valuable during his or her marriage due to repairs and mortgage payments. A prenuptial agreement can clarify which assets are separate and which are marital so the court does not have to break down commingled properties like the house in our example to divide them.
Draft your Prenuptial Agreement with Draper Law Office
Have an experienced divorce lawyer draft your prenuptial agreement so you know it will be valid in the event the court has to use it. Call Draper Law Office today at 866-767-4711 or visit our office online to schedule your free, no-obligation consultation with a member of our team.