Child Safety Tips and Avoiding Bicycle Injuries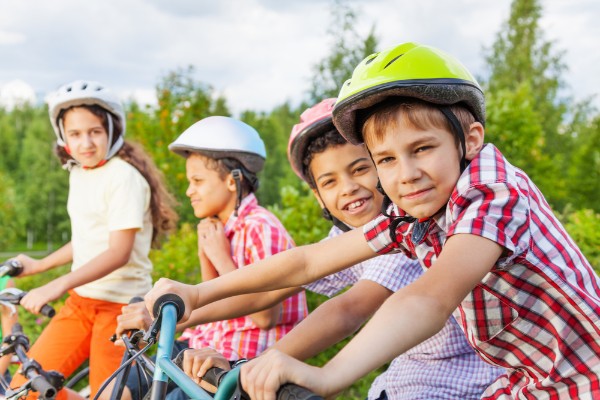 Riding a bicycle is not only a fun way to get around it is often a rite of passage for children as they transition to being more independent from their parents. Having the freedom to ride bikes means kids can enjoyably explore their communities. With its temperate weather, Florida offers children the opportunity to ride almost year round. With the number of children cyclist on Florida roadways, it is essential to know how to you keep kids safe and help them avoid bicycle injuries.
Helmets
According to a report by the Children's Safety Network each year, 196 children younger than age 15 die from bicycle-related injuries. The study also concluded that every year thousands of children are hospitalized or treated for bicycle-related injuries. Additionally, according to Safe Kids Worldwide, even though wearing a properly-fitted bicycle helmet can lower "the risk of head injuries by at least 45 percent" less than half of children 14 and under usually wear a helmet. While not all states require bicycle helmets, Florida law requires bike helmets for everyone younger than 16. Even without this law, having your child wear a helmet and ensuring that it is properly fitted, may be the most important way to help them prevent head injury while operating their bicycle.
Safe Equipment
Another factor in child bicycle safety is making sure that your child's bike is in proper operating condition. When a bike is in regular use, its gears and parts can become worn. This wear and tear can compromise the bike's braking system. Should the bike unexpectedly drop out of gear or the brakes should fail, the consequences could be severe for the rider. You can help prevent these kinds of problems by routinely checking that your child's bike is in good working order and is well-maintained.
Keep Watch
One of the best ways to protect a young cyclist is by keeping an especially close eye on them as they become acquainted with riding. While your child may have built up some confidence, it is easy for an inexperienced rider to quickly lose control of their bike at a high rate of speed. If you can, jog beside or ride your own bike with your child as they are getting used to cycling. In time, they will gain experience and be able to operate their bicycle more safely.
Teach Defensive Riding
Florida is regularly reported to be one of the most dangerous states for cyclists in the country. While all drivers should be mindful of children riding bikes, unfortunately, the reality is that many are distracted and may not see a child on their bike until it is too late to avoid a serious or even deadly accident. That is why it is vital that you help your children be aware of how to do their part to remain safe on the road. Wearing bright color and reflective gear is one way kids can help make themselves more visible. They also need to be aware of their surroundings and road conditions and avoid riding on busy roadways or at times of day when traffic is heavy.
Helping your child remain safe while biking is essential. However, sometimes, because of another person's negligence, accidents happen despite a parent and child's safe practices. If your child has been injured while cycling you need to talk to an experienced personal injury attorney who can help you examine your case. At the Draper Firm, we have experience assisting clients in assessing bicycle injury matters and understanding their options. Contact us today to schedule a free consultation.