Were You Injured At A Florida Railroad Crossing?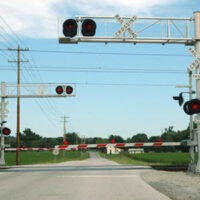 If you have been injured at a railroad crossing, you are not alone. In fact, about 5,500 people were injured at railroad crossings last year, and 529 people were killed. Believe it or not, this is actually a huge decrease (about 32%) from the previous year, and marks the first decrease since 2015. Clearly railroad crossings are not safe, and pose significant dangers. In many cases, drivers fall victim to a lack of signage, malfunctioning equipment, or are even rear-ended at a crossing while stopped, forcing them into the path of the train. Regardless of the cause, these injuries can be catastrophic, resulting in hundreds of thousands or even millions of dollars in damages and medical bills. If you have been in an accident at a railway crossing that was not your fault, a Kissimmee, Florida personal injury lawyer can help you get the compensation that you are entitled to.
Who to Sue for a Railroad Crossing Injury
There are a number of parties that can be held liable in a railway crossing injury. In the event that the intersection was not properly marked, lacked certain safety features that could have prevented the crash, or had malfunctioning or ineffective safety markers, the railroad company, government, or a contractor hired by the railway company may all be held liable depending on the circumstances. Railroad companies are common carriers, which means they have the highest duty of care. This requires them to take the highest level of precautions to prevent crashes and harm. If a railroad failed to take adequate precautions or fix non-functioning or malfunctioning signals, or if the conductor of the train was negligent, or the train was poorly maintained, all of these create a basis to bring a personal injury lawsuit against them. In the event that the accident was caused by another driver–for instance, rear-ending you and forcing you into a blocked intersection–the driver can be sued for the harm that they caused. Talking to a personal injury lawyer can allow you to effectively identify all potentially liable parties.
Damages for a Railroad Crossing Accident
Bringing a personal injury lawsuit for a railroad crossing accident allows you to recover any damages incurred as a result of the accident, as well as for pain and suffering. Economic damages include all medical expenses, lost wages, and other expenses caused by the accident. In some cases, punitive damages may also be available if the negligent conduct was malicious, intentional, or especially egregious.
Contact the Draper Law Office
If you have suffered an injury at a Florida railroad crossing that could have been avoided with appropriate precautions or a lack of negligence, you do not have to fight this battle alone. The experienced Kissimmee personal injury attorneys will work to get you the maximum amount of compensation that you are entitled to so that you can get the treatment and support that you need to get your life back on track. Call the Draper Law Office to schedule a consultation today.
Source:
injuryfacts.nsc.org/home-and-community/safety-topics/railroad-deaths-and-injuries/