Kissimmee Dog Bite Injuries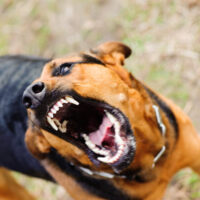 Dogs can be friendly, loving, and wonderful companions, but it's important to remember that they are still animals, and can be unpredictable in their behavior. When dogs do bite, the harm can be severe, even resulting in disfigurement or amputation. If you have been the victim of a dog bite injury in Florida, you do not have to suffer alone. A personal injury attorney can help you recover financially for the harm that you have suffered.
Can I Sue for a Dog Bite Injury?
Florida is a strict liability state when it comes to dog bites. This means that dog owners are automatically liable for injuries if their dog bites someone. This is true even if they had no prior knowledge that the dog was aggressive or had a propensity for biting. For this reason, you do not have to worry about establishing negligence in a dog-bite claim the same way that you would in other personal injury claims. This really streamlines the legal process and increases your chances of recovery. In most cases, you cannot recover anything if you cannot establish that the other party was negligent, but when it comes to dog bites, that entire element is assumed. All that you must demonstrate in order to have standing to bring a dog bite personal injury claim is that you were bitten by the other party's dog and were injured as a result. The injury must have resulted in financial damage. Financial damage can be established by showing evidence of any costs incurred as a result of the dog bite. This can include medical bills, costs for treatment, transportation to medical appointments, and lost wages due to time off of work for medical treatment or recovery. So, provided you were bitten by a dog and suffered a physical injury that cost you money, you are entitled to compensation from the owner which you can obtain by bringing a personal injury claim.
What is My Dog Bite Claim Worth?
The amount that your personal injury claim is worth depends on the extent of financial harm that you suffered. A personal injury claim is designed to make you financially whole again after an accident. You can receive compensation for medical bills, all expenses incurred as a result of the accident, as well as compensation for pain and suffering. The best way to get an accurate estimate of the value of your claim is to consult with an experienced Kissimmee, Florida personal injury attorney. They can ensure that you are considering all possible damages, such as the cost of future care, to receive a fair settlement that will ensure you can get the support you need to move forward and get your life back on track.
Contact the Draper Law Office
If you have been bitten by a dog and have suffered injuries and financial damages as a result, the experienced personal injury attorneys at the Draper Law Office are ready to help. Our Kissimmee personal injury attorneys will evaluate the facts of your case and start you on the best path to recovery. Contact the Draper Law Office today to schedule a consultation.
Source:
leg.state.fl.us/statutes/index.cfm?App_mode=Display_Statute&URL=0700-0799/0767/Sections/0767.04.html