Motorcycle Accidents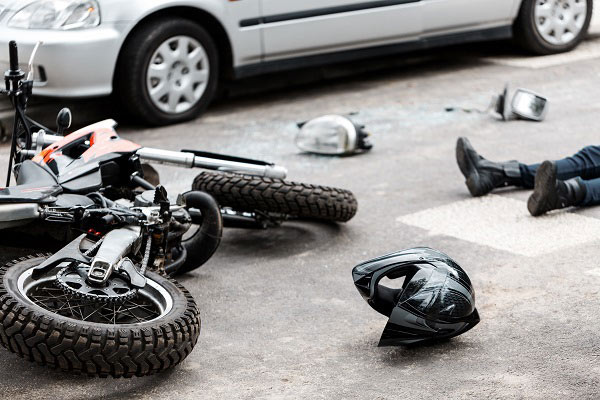 As recently as 2017 Florida was reported to lead the nation in motorcycle fatalities. As a destination for biker events such as Biketoberfest, there are times during the year when Florida road will be filled with motorcyclists. However, even without the draw of a popular event, Florida roads have thousands of motorcyclists on them every day. While there are more car drivers than motorcyclists on the road, this group accounts a high number of serious motor vehicle accidents in the state.
How does Liability Work with a Motorcycle Accident?
When determining fault, the law will compare the different people involved in an accident and assign responsibility according to their degree of culpability. When a motorcycle is involved in a crash, facts such as each driver's rate of speed, any reckless driving, the road conditions, and driver conduct will all be scrutinized. One issue that comes up frequently is an accident being caused when a vehicle driver fails to see the motorcyclist. Another common scenario is a driver failing to yield the right of way and causing a collision.
Defective Parts
One possible cause of a motorcycle accident is the vehicle having a defective part. Provided the motorcycle was "unreasonably dangerous," was not being operated outside its intended use, and its performance had not changed significantly since it was purchased, the driver may have a claim against the manufacturer of the vehicle or of a part which caused the machine to malfunction.
What About PIP?
While Florida law requires that motorists are covered by a Personal Injury Policy (PIP) for non-fault coverage, this requirement does not apply to motorcyclists. PIP operates to limit how much an injured motorist can seek following an accident. As these limitations to do not apply to someone injured while operating a motorcycle, the motorcyclist can pursue more damages following an accident including pain and suffering.
Possible Damages from a Motorcycle Accident
As with other personal injury claims, you may be entitled to recover damages for your property loss and injuries following a motorcycle accident. These damages typically include medical expenses which were incurred because of the collision. When a motorcyclist is hurt in a crash, they have less physical protection which can mean that after an accident, it is likely that a motorcyclist will have extensive injuries and medical expenses. Further, some motorcyclists do not wear helmets which places them at higher risk for severe head injuries during a motor vehicle accident. An injured motorcyclist can also pursue a claim for lost wages and future earnings if they are rendered unable to work following the accident. They may also seek compensation for the pain and suffering connected to their injuries as well as other losses they have incurred.
At the Draper Law Firm have experienced personal injury attorneys who understand the issues and laws regarding motorcycle accidents and can provide you with the advice you need. If you are involved in a personal injury case, please contact us to schedule a free consultation. We invite you to learn more about our firm here.