Tips on Keeping Your Children Safe in the Car
As parents, we want to do everything we can to keep our kids safe. Yet unintentional accidents, including traffic accidents, continue to be a leading cause of death in children under 18. Car seat misuse is more common than not, unsecured objects create serious hazards and as every parent knows, getting kids to use their seat belts properly is always a challenge. So how do you keep your kids safe in the car?
The Main Source of the Problem
The Centers for Disease Control and Prevention estimates that over 600,000 kids between infancy and 12 years old have traveled in vehicles without being safely secured in a car seat, booster or seat belt. Using properly installed or secured age-appropriate restraints greatly reduces your child's risk of injury or death. According to the CDC, over 70 percent of 3,500 car seat and booster seats were used incorrectly in such a way as to cause extra risk to the children riding in them. Most parents are completely unaware they're making this error.
Age-Appropriate Security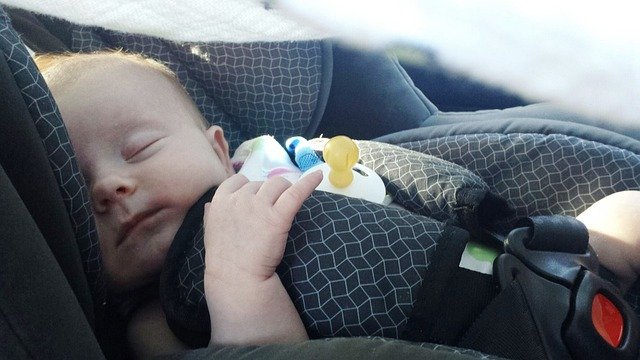 The risk of injury or death is greatly reduced if your child is secured properly in the vehicle based on their age and weight. It's important to note that many states have specific laws about what type of car seat you should use based on your kid's age, height and weight. Always pay attention to the car seat manufacturer's specifications, too, though. While adhering to state law, you'll also want to adhere to the recommendations of the car seat's maker.
Infants: Infants should be in a rear-facing car seat, preferably in the backseat and away from air bags. If you only have one row of seats or if your backseats have air bags, deactivate the air bags. Typically, the middle of the backseat is the prime spot if your car seat will install properly there. Children should be in rear-facing car seats until they're at least 2 years of age or until they've outgrown the car seat manufacturer's height and weight specifications.
Toddlers and preschoolers: When they outgrow the rear-facing car seat, they should be using a forward-facing car seat with a harness until they outgrown the height and weight specifications of the car seat manufacturer.
Elementary and middle-schoolers: When they're too big for the forward-facing car seat, they should be using a belt-positioning booster seat. They should continue using this until they're about 4-feet 9-inches and between 8 and 12 years old. There will be a lot of variance here because kids develop at different rates, so kids will reach this size at different ages. Either way, all kids under 13 should right in the back seat, even if they're big enough for a seat belt.
Older kids: When children are old enough for a seat belt to fit them properly, they should always wear both the lap and shoulder strap. If they're under 13, they should still stay in the backseat. They should be taught to wear the lower belt snuggly across their pelvis, but never on their stomach. The shoulder belt should fit comfortably across the collarbone and chest without rubbing on the neck.
General Safety
Using age-appropriate safety equipment greatly reduces a child's risk of death during a collision. But it's imperative you ensure you're following the manufacturer's instructions.
For car seats, that means not only following height and weight instructions, but ensuring they're properly installed. You can go to Parents Central to register your car seat and sign up for notifications about car seat recalls, which you should always act on immediately if your car seat is one of them.
Additionally, keep children under 13 (or older if they're small for their age) away from airbags or disable airbags in the area they're sitting. Airbags are designed for adults and can be very dangerous for young kids. Convertible car seats are fine, but replace them after six years to ensure they aren't worn out. By that time, there may also be newer and better car seats on the market either way. Also, make sure you're aware of your state's car seat and seatbelt laws.
Securing Loose Objects
Another danger in the car that many people just don't consider is loose objects. Toys and other items should be stored securely to prevent them from becoming dangerous projectiles in the event of an accident or sudden evasive maneuvers to avoid a collision. Store items in your trunk or in a cargo area using nets, anchors and tethers. Smaller items you might need access to during your trip should be stored in the glove compartment. If you must store large items inside the vehicle, make sure they're placed in a way that they're secured against the backseat with little potential for significant movement.
Set a Good Example
If you don't wear a seatbelt, your kids won't want to either. Not only is it dangerous, but it could also lead to trouble with the law. All 50 states have laws about seat belts for adults, but they may have different rules for kids. Ensuring everyone is restrained, regardless of their age or where they're sitting in the car, is safest and sets a good example for little ones.
Additionally, many states now have laws about the use of cell phones for texting and/or talking. Even if they don't, it's important to set a good example for your kids at an early age.
If An Accident Happens, call Experienced Kissimmee Accident Attorneys
Sometimes, despite all our safety precautions, our children are injured in an accident anyway. If you or your child was injured in an accident, contact the experienced Kissimmee, Florida, car accident lawyers at Draper Law Offices at 866-767-4711 for a free, no-obligation consultation.