Bike v. Car: Who was at fault?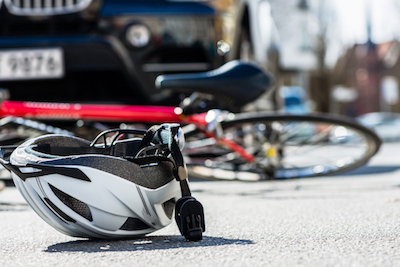 According to the Insurance Institute for Highway Safety, bicyclist account for 2% of motor vehicle accident deaths. Although this percentage may seem low, in a 2015 report, the Centers for Disease Control and Prevention found that Florida led the nation in bicycling deaths. Additionally, despite the increasing number of cyclist on the road, many Florida cities have not improved their infrastructure to support bicycle safety. As a consequence, accidents involving bikes and cars are becoming are commonplace. While it may seem clear that when a bike and car intersect, the car driver is at fault, this may not always be the case.
Biking Lanes
Florida offers pleasant weather and scenery which are attractive to cyclists. However, Florida roads are anything but friendly to those who seek to get around on this mode of transportation. With its numerous high-speed roadways and a significant lack of biking lanes traveling by bike can be challenging. Cyclists are supposed to be safe in a bike lane, but drivers sometimes fail to see them or check their blind spots leading to accidents.
Additionally, Florida law allows "any person operating a bicycle upon a one-way highway with two or more marked traffic lanes may ride as near the left-hand curb or edge of such roadway as practicable." Further, bicyclists are required to use the bike lane but, if none, is present they must travel "as close as practicable to the right-hand curb or edge of the roadway except under certain conditions. This means that bikes and cars must share the road even without a biking lane. While cyclists have to observe the same traffic laws as motorists, there is a high risk that drivers will fail to see cyclist under these conditions.
Turning Right in Front of a Cyclist
A common problem on the road occurs when a bike is driving straight, and an approaching car makes a right turn in front of them even though they have the right-of-way. Collisions such as this can cause serious injury. Motorists have a responsibility to check their surroundings before making a right turn. The bicyclists also should also pay attention to any cars that may be approaching with their turn signals on. If the cyclist is in a bike lane which is alongside a turn only vehicle lane, for instance, the cyclist needs to watch for cars who are in the turning lane before proceeding through the intersection.
Dooring
Dooring occurs when a cyclist runs into a car door which is opening or open. Drivers have a responsibility to be aware of their surroundings and watch for hazards such as an oncoming cyclist, before opening their door. Drivers should also be careful not to leave their car doors open for longer than necessary. If a driver carelessly opens the door and causes an accident, a cyclist may be able to file a personal claim. However, if the cyclist was not paying attention, this could be taken into consideration when determining liability. The Florida Bicycle Association advises cyclist to stay outside of the "door zone" when riding and "[r]egardless of where the bike lane is, stay at least 5 feet away from parked cars".
Intersections
Motorists are required to exercise due care to avoid running into a bicycle rider. However, bicyclists are also expected to obey the rules of the road. Drivers frequently make left turns in front of cyclists ignoring the right of way. When it comes to intersections, both cyclist and motorist are required to yield the right of way. Failing to do so will mean that the party who failed to adhere to the rules will share responsibility for any resulting accidents.
Contact an Experienced Personal Injury Attorney
If you've been injured in a car and bike accident, you should have an attorney review your case to determine if you're eligible for compensation. The attorneys at the Draper Firm, have over 30 years of experience in personal injury cases and will evaluate your case free of charge. We are here for you and can help. Contact us today to schedule a free consultation.