Florida Motorcycle Safety Tips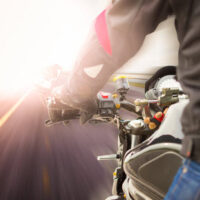 Florida is one of the most beautiful states in the nation for motorcycle riding. With stunning views and a gorgeous climate, it's no question why so many riders choose Florida's highways for joyriding and experiencing the open road, particularly during the summer. However, while Florida may be one of the most scenic states for motorcycle riding, it is also one of the most fatal. Florida consistently ranks as one of the three top states for highest number of motorcycle fatalities. In this article we will cover some basic tips and precautions for drivers and motorcyclists to help avoid fatalities whenever possible. If you have been in a motorcycle-vehicle collision and would like personalized advice based on your case, please contact the experienced Florida personal injury attorneys at Draper Law Office for a consultation.
Safety Tips and Precautions for Motorcyclists and Drivers 
Drivers, learn to look for motorcycles. Motorcycles are smaller than cars and can easily disappear into blind spots. Drivers are not as used to sharing the road with motorcyclists, and often forget to check for them, particularly when making turns. This is partially why so many motorcycle fatalities occur when vehicles are making left-hand turns. Left-hand turns are a particularly high-risk time, and, as such, additional precautions should be taken. It's also important to check for motorcycles before switching lanes and merging, as this can easily result in instant motorcyclist fatality.
Motorcyclists, wear a full-face helmet. It might not be as cool looking as the novelty helmet with the cat ears, but full-face helmets could save your life and your face. Your face has dozens of fragile bones that can easily be fractured during a crash. Full-face helmets are less likely to leave your face, and can prevent traumatic brain injuries and catastrophic damage to the face.
Motorcyclists, wear as much protective gear as possible. In general, as a motorcyclist, the more protective gear you wear, the less your chance of death. Wearing jeans can prevent horrific road rash, burns, and even the need for skin grafts. The more protection that you can give yourself, the better a chance of survival you are giving yourself as well.
Everyone, stay sober if you are driving. Regardless of whether you are driving a car, truck, motorcycle, or any other type of vehicle, if you have been drinking, you are better off staying off the road. Even if you are under the legal limit you can still be charged with drunk driving if you have any amount of alcohol in your system and it appears to be impacting your ability to drive. For this reason, it's always better to not drive than it is to drive with any amount of alcohol in your system. Motorcyclists are more likely to die as a result of drunk driving accidents, regardless of whether they were the one drunk driving.
Talk to a Florida Personal Injury Lawyer
If you have been injured in a vehicle collision, the experienced Kissimmee personal injury attorneys at Draper Law Office are ready to help. Contact us today and schedule a consultation.
Source:
fdot.gov/Safety/programs/motorcycle-safety.shtm