Did A Car Accident Ruin Your Christmas?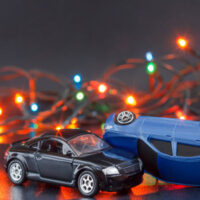 Christmas can be a day filled with joy and the holiday spirit. Unfortunately, it's also filled with car accidents. As many people travel to see loved ones, attend holiday parties, and as tourists flock to Florida to take advantage of the warm weather on their time off from work, many factors collide to result in an increased risk of accidents. According to one study, approximately 42,300 people are involved in accidents on Christmas day that require medical attention each year. If you were one of these people, you do not have to carry the burden of a car accident into the new year. An experienced personal injury attorney can help you navigate the insurance and personal injury lawsuit process in order to ensure that you get the compensation that you are entitled to, while you get back to focusing on your recovery.
Causes of Christmas Car Accidents
There are a number of reasons that car accidents are so common on Christmas day. Many drivers are exhausted, having woken up early and had a full day of activities, while others are distracted by screaming children or dropped toys. However, data suggests that one of the leading causes of holiday car accidents is alcohol consumption. It's no surprise considering how many holiday parties include drinking alcoholic beverages. It is estimated that as many as 28% of all car accidents that take place on Christmas involve at least one drunk driver. What this means for you, is that if you were in an accident that was not your fault, it was probably the other drivers'. If the other driver was intoxicated, speeding, or violating other driving laws, they can be held de facto negligent This means that instead of having to prove that they were negligent and that their negligence caused your accident, as you would in a normal personal injury lawsuit, you will only have to establish that they were de facto negligent and that you were injured. Their negligence and causation will be presumed from the fact that they were violating laws designed to prevent accidents of this kind.
What to Do After an Accident
Do not waste any time after an accident in seeking medical attention and contacting an attorney. Although you may be tempted to quickly accept an offer from your insurance adjuster that sounds good, it's important to make sure that you have full and complete information before accepting an offer. The insurance claim adjusters' allegiance is ultimately to the insurance company, so they will try to offer you as little as possible. An offer that sounds good now could end up leaving you in serious debt later on.
Contact the Draper Law Office
If you have been seriously injured in a car accident, contact the experienced Kissimmee personal injury attorneys at the Draper Law Office and schedule a consultation to find out how they can fight to get you the compensation and support that you are entitled to.
Source:
injuryfacts.nsc.org/motor-vehicle/holidays/christmas-day/