How Safe Are School Buses?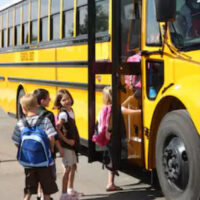 Parents often don't have a choice when it comes to sending their kids to school on the bus. Conflicting work schedules, reliable transportation, and additional non-school-aged children and responsibilities at home, often make it difficult or impossible for parents to drive their own children to school each day. Many parents do not struggle with this decision, as school busses are perceived as generally safe and a largely social experience for children. However, is that unquestioned trust warranted? School busses lack seatbelts–a safety measure that most parents would never let their children go without in a personal vehicle. Additionally, statistics reflect that over 17,000 children are treated in emergency rooms for school-bus-related injuries every year; a number which continues to increase. According to a new report, over 40% of these injuries are caused by bus-vehicle collisions. It also notes that the majority of these injuries are not serious (due to the bus's design and size compared to other vehicles) and are often relatively minor, such as sprains, scrapes, and bruises. However, more serious injuries certainly do occur. 24% of injuries occur when students are getting on or off of the bus. These injuries tend to be far more serious and can be fatal.
Recent Florida School Bus Accident
Five students and two adults are being hospitalized after a collision between a school bus and a car in Jacksonville, Florida earlier this week. The crash occurred at approximately 8:00 a.m. on Friday morning, while the bus was transporting the students to school at the Jacksonville Classical Academy. According to police, there were thirteen students on the bus at the time of the collision, which appeared to take place at an intersection. After colliding with a silver sedan, the bus driver veered off in one direction and the sedan in another. The bus then narrowly drove through two Florida Skyway Overpass Posts, which police say was critical to the driver having avoided more injuries and serious damage. Had the bus collided with one of these poles, there very well could have been serious injuries and fatalities. The sedan was reportedly so badly mangled that it required a full-on rescue effort to remove the driver from the vehicle. The driver was immediately transported to the hospital in serious condition. Five of the thirteen students on the bus were transported to the hospital for treatment. However, none of their injuries were believed to be serious or life-threatening. The school bus driver was not harmed, and while police described them as "shaken up," they commended the driver's ability to have mitigated the possible harm, noting that things could have been far worse for the students on board if not for the driver's quick thinking and reactions. The police did not make any comment as to who was at fault for the accident or how it occurred. However, an investigation is ongoing.
Talk to a Kissimmee, Florida Personal Injury Attorney
If you or your child have been seriously injured in a Florida school bus accident, it's important to understand your rights and options for moving forward. Call the experienced Kissimmee personal injury lawyers at Draper Law Office to schedule a consultation.
Resource:
ajc.com/news/breaking-multiple-injured-after-crash-involving-school-bus-in-florida/GQYYMKP3TZDPFOCIUR5K5NUUB4/