Pausing The Statute Of Limitations On Car Crash Injuries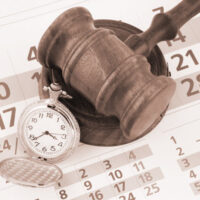 If you or a loved one have been severely injured in a Florida car accident, filing a lawsuit might be the last thing on your mind. It can be hard attempting to recover from serious injuries while trying to determine next steps and available options. Unfortunately, there is a time limit on bringing a claim, and it's important to consider your options before it is too late.
What is the Statute of Limitations?
The time limit on how long you have to bring a lawsuit after an accident or injury is called the statute of limitations. Every state has statutes of limitations. They are intended to encourage lawsuits to be brought promptly so that evidence and witnesses are still accessible and available. The more time that passes after a trial, the harder it is to have a fair trial, as less and less evidence may be available, witnesses move away and their memories get less clear. However, while the intentions behind having statutes of limitations are good, they can also be incredibly frustrating for victims who don't find out about their options until too late.
Exceptions to the Statute of Limitations in Florida
In Florida, the statute of limitations for most injuries is four years from the date of the accident. However, there are exceptions to this limitation. In some circumstances, the statute of limitations can be tolled or paused. For instance, you have to be 18 years old to bring a lawsuit. For this reason, if you are injured before the age of 18, the statute of limitations will not start running until the date on which you turn 18. At that point, you'll have four years, or until you are 22, to bring a lawsuit. Similarly, the clock will not start running on the statute of limitations until you are aware of your injuries. In most cases, people are aware of their injuries on the day of the car crash. However, sometimes injuries take longer to manifest or become aware of. For instance, there may have been an internal injury that was not immediately apparent. In these cases, the statute of limitations begins running as soon as the person knew or reasonably should have known about the injury.
It should be noted that these are the statutes of limitations for most forms of personal injury in Florida, but not all. Medical malpractice has a separate statute of limitations, requiring that all lawsuits be brought two years after discovering the injury, but placing a four-year maximum on claims with only very limited exceptions.
Talk to a Kissimmee, Florida Personal Injury Attorney
If you have been injured in a Florida car accident or suffered a personal injury and have questions about the statute of limitations, the experienced Kissimmee personal injury attorneys at Draper Law Office are ready to help. Call today and schedule a consultation to find out how we can help get you the compensation that you are entitled to.