Safety Tips for Driving in Construction Zones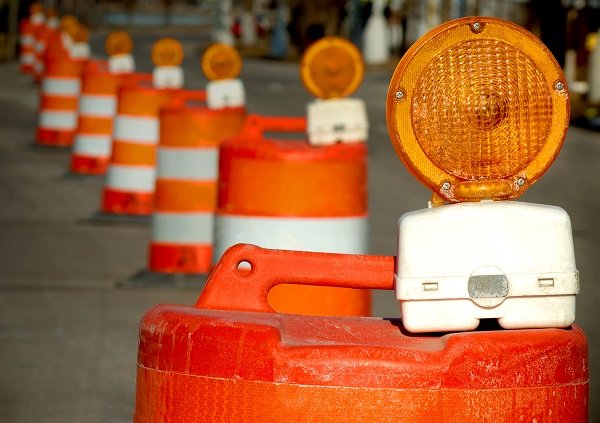 Driving through construction zones can be dangerous. Often constructions zones are obvious, clearly marked, and may re-route traffic. Sometimes road construction is not as clearly marked leaving drivers unaware of added dangers to the road condition. In either case, it is important to be knowledgeable on how to safely navigate construction zones.
Safety Tip: Leave Extra Space Between Cars
Leaving adequate space between your vehicle and the vehicle in front of you allows for more reaction time. Construction zones may increase the likelihood of unexpected stopping. If you are following too closely, you may not be able to stop in time.
In fact, leaving extra space between cars is a good driving practice even when there is not road construction!
Safety Tip: Do Not Get Distracted
When driving, give the road your undivided attention. Your life and the lives of others may depend on it.
When it comes to navigating construction zones, the signs, detours, and construction cones can be confusing. Turn off the radio, stop talking to your passengers, slow down, and focus on the road in front of you.
Click here to read our article Texting While Driving Causes Fatal Car Crashes.
Safety Tip: Be Extremely Cautious On Uneven Pavement
Uneven pavement creates an extremely dangerous road condition. It can cause serious accidents, especially at high speeds. Always be on the lookout for uneven pavement on the roads. Be extra diligent in spotting uneven pavement in construction zones, as those areas are more likely to have portions of uneven pavement.
Safety Tip: Obey Speed Limit Signs
Reduced speed limit signs are typically posted in construction zone. Obey these reduced speed limits. Of course you want to avoid a speeding ticket, but the reduced speed is a safety precaution for you, fellow drivers, and the construction workers.
Even if you do not see a reduced speed limit sign posted, it is good driving practice to slow down below the normal speed limit anyway. Construction zones can create a host of dangerous road conditions that may require a quick reaction. The slower you are moving, the more likely it is that you will be able to safely navigate through the construction zone.
Information on Florida's Road Construction Projects
The Florida Department of Transportation offers online information about all road construction projects throughout the state. For information on road construction in Central Florida, click here! This valuable resource features a section on current news as well as a quick search feature, allowing visitors to get updates by city, county, Interstate, or road.
For information on all major road construction projects on Florida's highways, click here!
If you have questions about construction zone accidents or accident liability, give us a call at 866-767-4711 to schedule a free consultation.
You Want A Personal Injury Attorney On Your Side
Unfortunately, no matter how careful you are on the roads, sometimes accidents happen. If you have been injured in an accident, you want an experienced personal injury attorney on your side.
We know how to properly value your personal injury claim. When you hire us to represent you in your personal injury claim, you will have true advocates on your side. Put our trial team to work for you. Call our office today 866-767-4711 to schedule a free consultation.
Draper Law Office proudly serves clients throughout Central Florida, including Kissimmee, and Orlando, and Osceola County and Orange County, FL.